Bantha Cakes
Bantha Cakes were first found in the cabinets of the Afternoon Delight by Xianna in episode 7 (well… listeners will hear about them first during the Jedi Adventures part 2, but we first created them in ep7). They described as processed snack cakes and the squadron immediately thought of Zebra Cakes… but blue. So not surprisingly, the classic Little Debbie snacks were a heavy inspiration for these cakes. A yellow cake, a whipped cream filling, a poured frosting, and a drizzle on top.  We decided upon almond-white chocolate as the flavor and tinted the frosting and filling to that wonderful shade of Bantha milk blue.
First, let's start with the cake. The recipe we use is a fairly standard yellow cake recipe that uses buttermilk to keep the cake extra moist. Once the cake is baked and cooled, you'll a 3-inch round cutter to cut out 16 to 20 round pieces. How many pieces you'll get will depend on if your cutter is exactly 3 inches or not.
Next comes the whipped cream filling. The special ingredient in the filling is dry milk powder. It adds extra body to the whipped cream and makes it more stable. This helps prevent the whipped cream from melting at room temperature.
You'll divide the filling evenly between half of the cake pieces. Then place the remaining cake pieces on top to create a "sandwich". You may not use all of the filling. Don't worry. Any extra can be eaten with the extra cake pieces. We're not saying that we smushed handfuls of cake and filling into our mouths like a bunch of toddlers, but… wait- nevermind. We are saying we did that.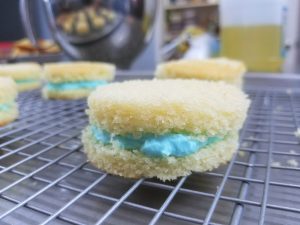 Once the cakes are made and sitting in the fridge, you'll start the fondant coating. It's made in a double-boiler, which is a metal bowl placed atop a saucepan with an inch or two of boiling water. This means the steam is what's heating up the fondant instead of the stove directly. It's a more gentle way to heat things up, and helps prevent anything from burning or cooking unevenly.
The initial mix is powdered sugar, corn syrup, more blue food coloring, flavoring, and a bit of water. Once it's fully heated through and mixed you'll turn off the stove and add the white chocolate chips. Stir until everything is combined, and then it's time to pour!
Using a ladle or large spoon you'll pour the fondant over the chilled cakes. Any gaps or bumps can be smoothed out with a butter knife or the back of a spoon. Do this immediately after pouring, before the fondant has time to set.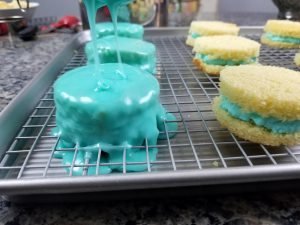 The final step is the white chocolate drizzle. You'll melt white chocolate in the microwave in small increments (to prevent burning), and then using a spoon drizzle it on top of the cakes.
And there you have it, Bantha Cakes!
Tabletop One's Tips:
Buttermilk can be substituted by adding 1 tablespoon lemon juice to a measuring cup, and then pouring whole milk to reach the 1 cup mark. Let sit for 10 minutes.
If your cake top puffs up and is rounded after baking use a bread/cake knife to even the top out.
If your double broiler or bowl is not large enough to hold 12 cups of powdered sugar, make the fondant in two batches.
Make sure the bowl you use to melt the chocolate is completely dry. Any amount of moisture can make the chocolate seize and become clumpy.
Bantha Cakes [makes 8-10 large cakes]
1 recipe Vanilla Cakes (recipe to follow)
1 recipe Whipped Cream Frosting  (recipe to follow)
1 recipe Poured White Chocolate Fondant  (recipe to follow)
1/2 cup white chocolate chips
Using a 3-inch round cookie or biscuit cutter and cut out rounds from the cakes. You should get between 16 and 20, depending on how close to 3 inches your cutter is.
Place large dollops of the whipped cream frosting on 10 of the cake rounds. Smooth out the frosting. Place the remaining ten rounds on top.
Place the cakes on a rack over a baking tray. Put in the refrigerator while you make the fondant.
While the fondant is still warm, begin to pour the fondant over the cake rounds. If the fondant becomes stiff and less pourable, place it back on the heat for a few minutes. Continue until the cake rounds have been fully covered. The fondant recipe makes quite a bit, and there will probably be excess. If needed, you can scoop up the fondant that has collected on the tray and stir it back into the fondant in the double-boiler.
Place the chocolate chips in a microwave safe bowl. Microwave for 30 seconds. Stir. Microwave for 15 second intervals, stirring in between, until the white chocolate is fully melted. Drizzle over the cakes.
Let the cakes sit for at least an half an hour to allow the frosting to set.
Vanilla Cakes [makes 2 9″x13″ cakes]
2 1/2 cups all-purpose flour (312 grams)
2 1/2 teaspoons baking powder
1 teaspoon baking soda
1 teaspoon salt
4 large eggs
1 1/2 cup sugar (300 grams)
2 teaspoons almond extract
1 teaspoon vanilla extract
1 cup canola oil
1 cup full-fat buttermilk
Preheat the oven to 350°F and line two 9″x13″ pans with parchment paper.
In a medium bowl, whisk together cake flour, baking powder, baking soda and salt. Set aside.
In the bowl of an electric mixer, beat eggs with the whisk attachment on medium speed for 15-20 seconds. Add sugar and continue to beat on medium speed for 30 seconds. Add vanilla and oil and beat on medium speed for 1 minute. Reduce mixer speed to medium/low and slowly add about half of the flour mixture. Add half of the buttermilk, then the rest of the flour mix and the rest of the milk. Beat until just combined and smooth, scraping down the sides of the mixing bowl. The batter should be thin.
Pour batter evenly between the two pans. Bake for about 15 minutes, or until a toothpick inserted into the center comes out clean. If cooking the cakes on different racks in the oven, switch them halfway through to promote more even cooking. 
Whipped Cream Frosting
1 cup heavy whipping cream
1/2 cup powdered sugar
1/2 teaspoon almond extract
1/2 teaspoon vanilla extract
1 tablespoon nonfat powdered milk or nonfat instant dry milk
Blue food coloring
In a mixing bowl combine the cream, powdered sugar, milk powder, extracts, and powdered milk.
Whip until the cream begins to thicken. Add the food coloring until a bright, light blue shade is achieved. I used 6 drops of Blue and 2 drops of Teal, both Wilton gel food colors. Continue to whip until the frosting is thick and holds its shape.
Poured White Chocolate Fondant
6 cups powdered sugar (720 grams)
1/2 cup water
2 tablespoons light corn syrup
1 teaspoon vanilla extract
1/2 teaspoon almond extract
Blue food coloring
3/4 cup white chocolate chips
Bring a pot of water to boil, then placing a larger metal bowl or double-boiler over it.
In the bowl, whisk together the powdered sugar, water, corn syrup and extracts. Add the food coloring until a bright, light blue shade is achieved. I used 4 drops of Blue and 1 drop of Teal, both Wilton gel food colors.
Continue whisking until the mixture becomes smooth. It should be thin enough to drizzle from a spoon. If using a food thermometer, the temperature should reach 95°F.
Turn off the heat, add in the white chocolate chips and stir until fully melted.