The crew spends a lot of time during episodes 23 and 24 having breakfast. One of said breakfast items was scones. Some were certainly regular cream scones served with butter and jam, but some were probably heartier, like these Oatmeal Rum-Raisin Scones.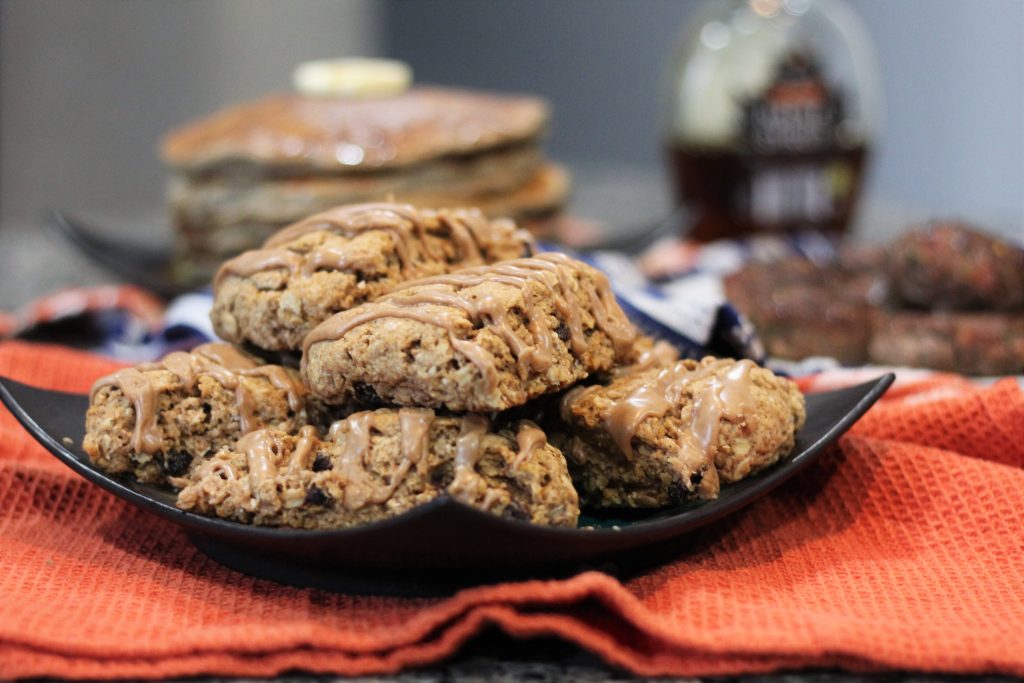 These scones are made with a mix of all-purpose flour, whole wheat flower, and oats. This creates a wonderful hearty flavor and a chewy texture. Brown sugar adds sweetness, and cinnamon, nutmeg, and cloves add a warm spice. Orange zest brings a hint of freshness and prevents these from tasting flat.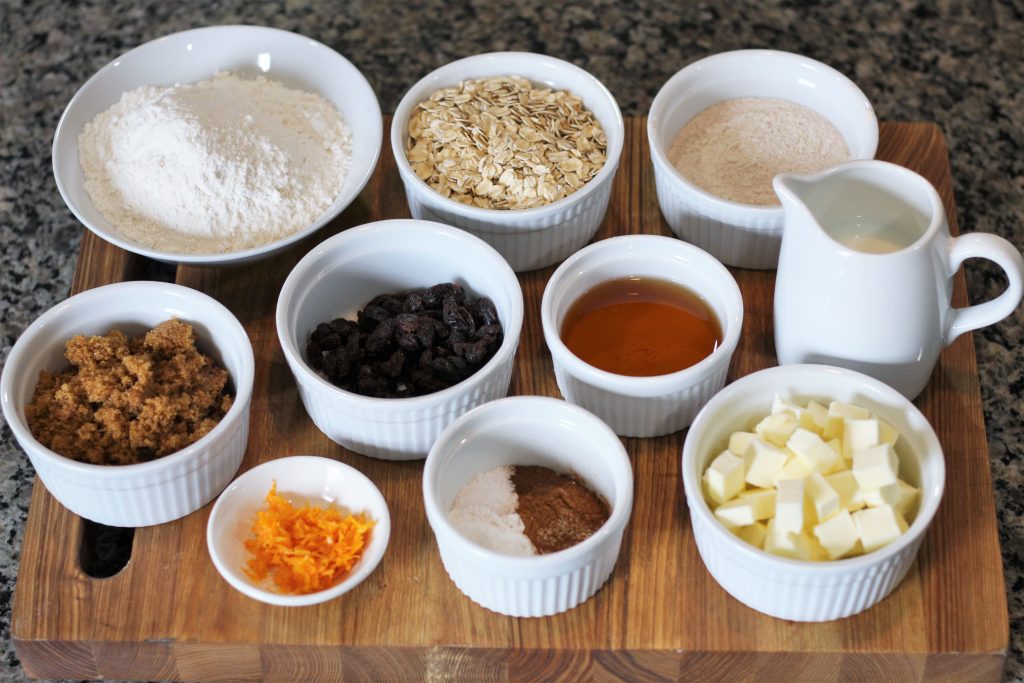 The real secret in letting the raisins soak in spiced rum. This plums them up and adds some extra flavor.
If you don't wish to or cannot use rum, apple juice or cider would work as well.
These will sit for an hour and get nice and plump.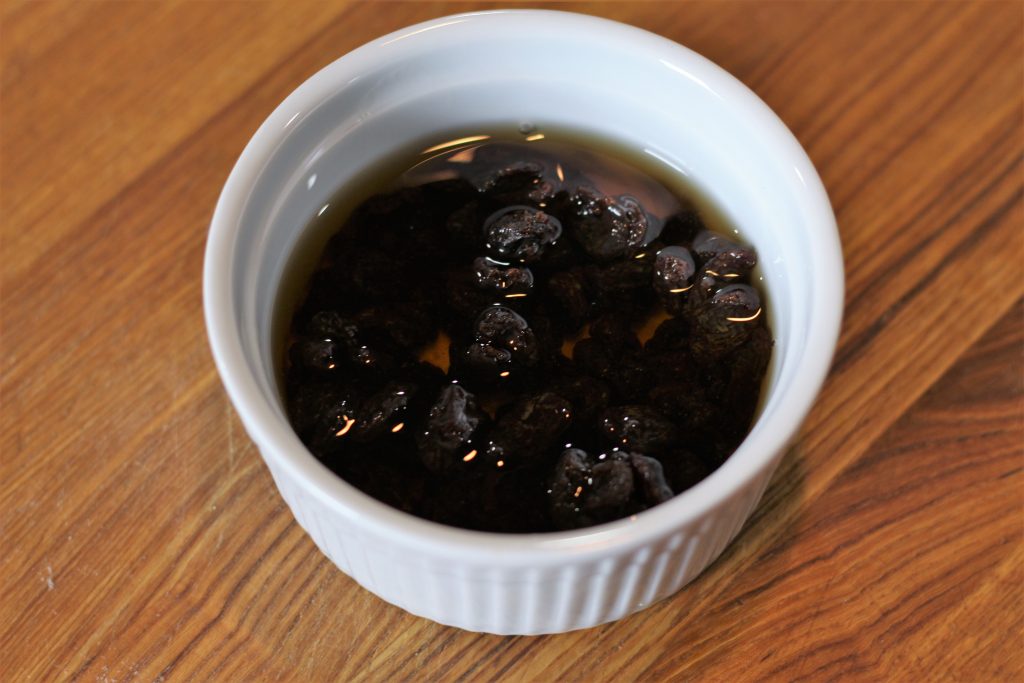 When the raisins are almost done soaking you'll combine all the dry ingredients in a large bowl and give them a good mix.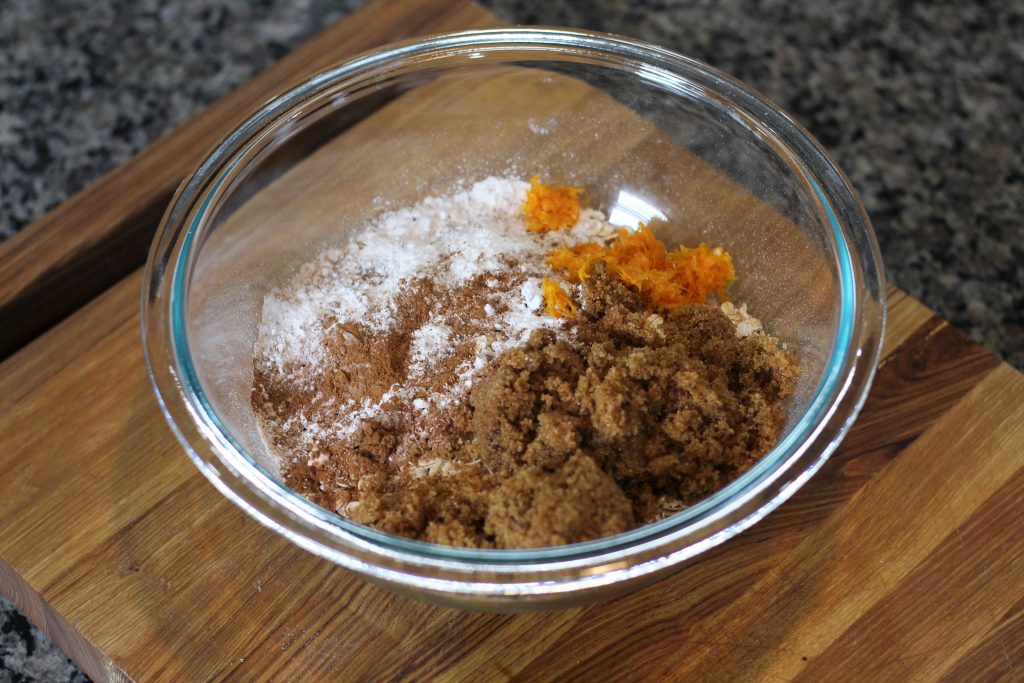 Then you'll add the cubed butter. You'll want the butter to stay as cold as possible for the best texture. If the butter gets too warm into melt into the flour and create a doughy texture instead of light and crumbly.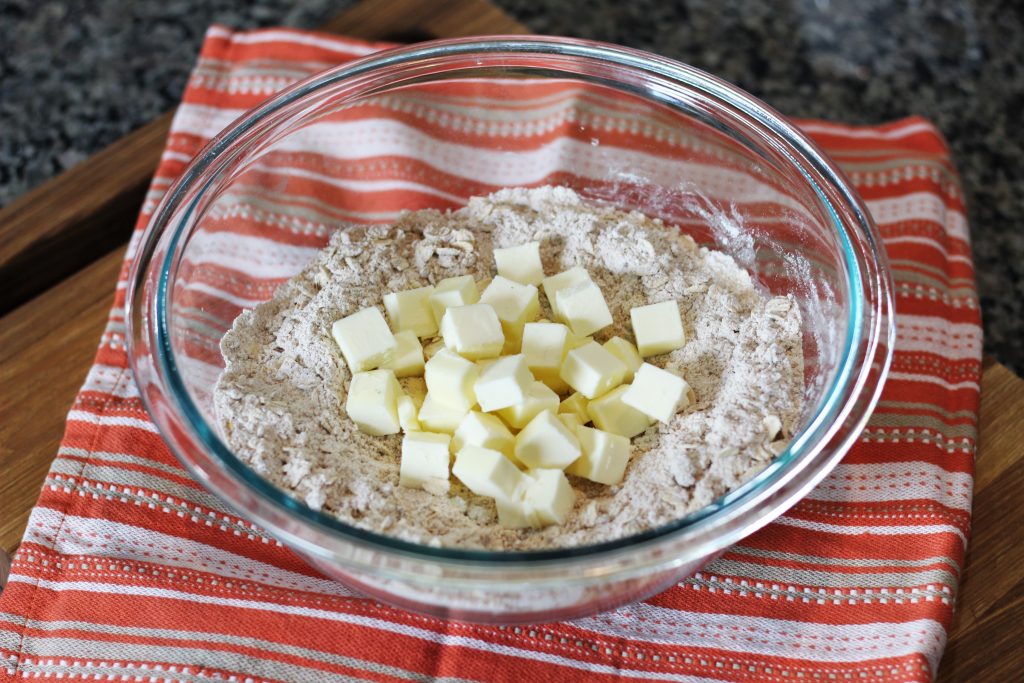 You'll "cut" the butter into the flour mixture by cutting it up into small pieces. You can do this with a pastry cutter, a handle with thin wires or cutters, or you can use two butter knives and slice at the pieces of butter.
The final butter pieces should be very fine and blended into the mixture.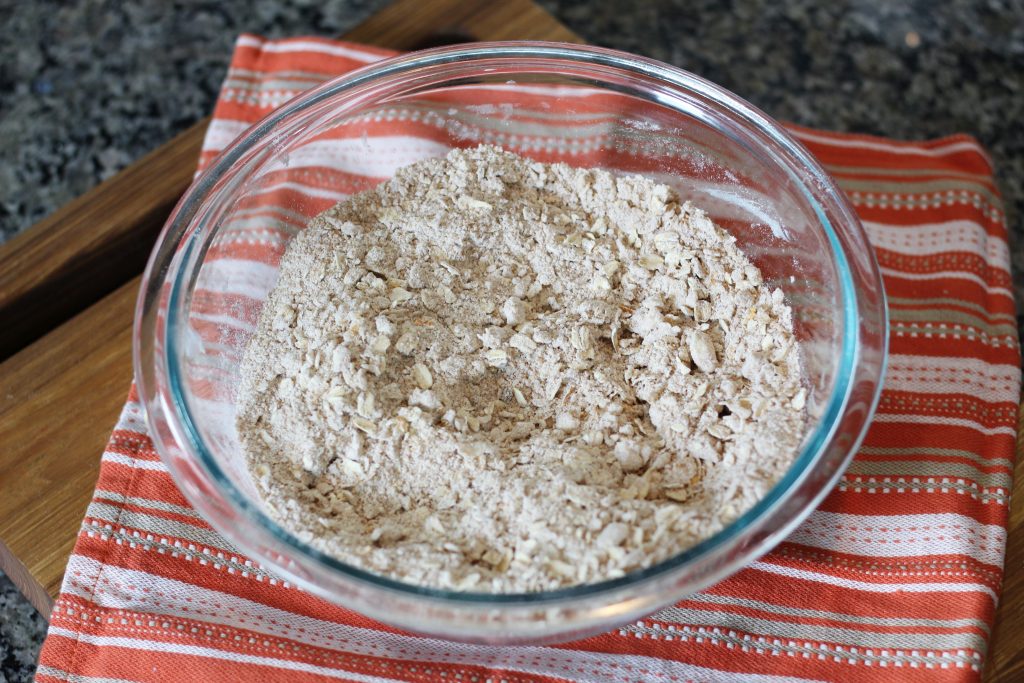 Then you'll add the buttermilk and stir just until the dough begins to form. Drain the raisins, you can use the leftover rum for whatever you'd like, and add to the dough. Continue stirring until the dough is mostly combined.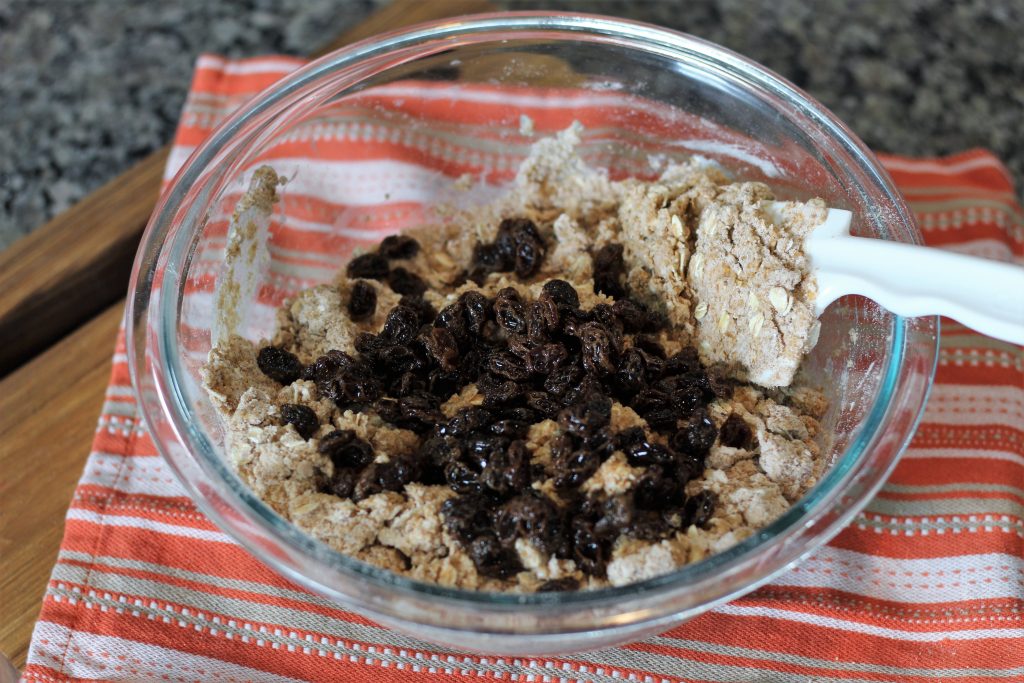 Next, you'll pour out the dough on a flat surface, with some extra flour to prevent sticking, and knead until the dough is fully mixed and cohesive.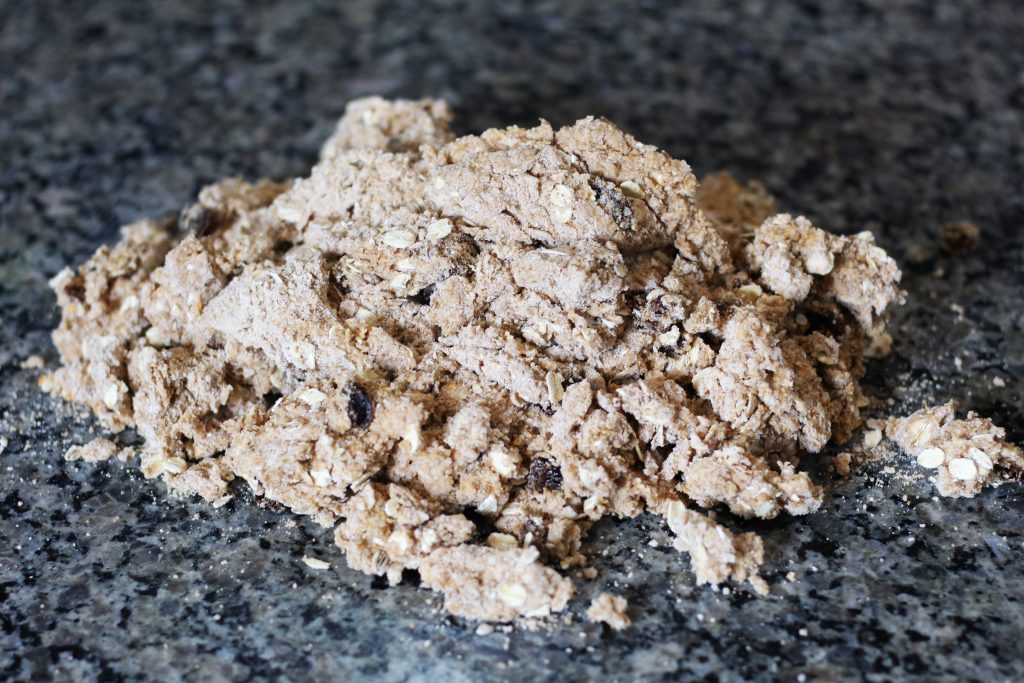 Form it into a flattened disk about 2 inches tall.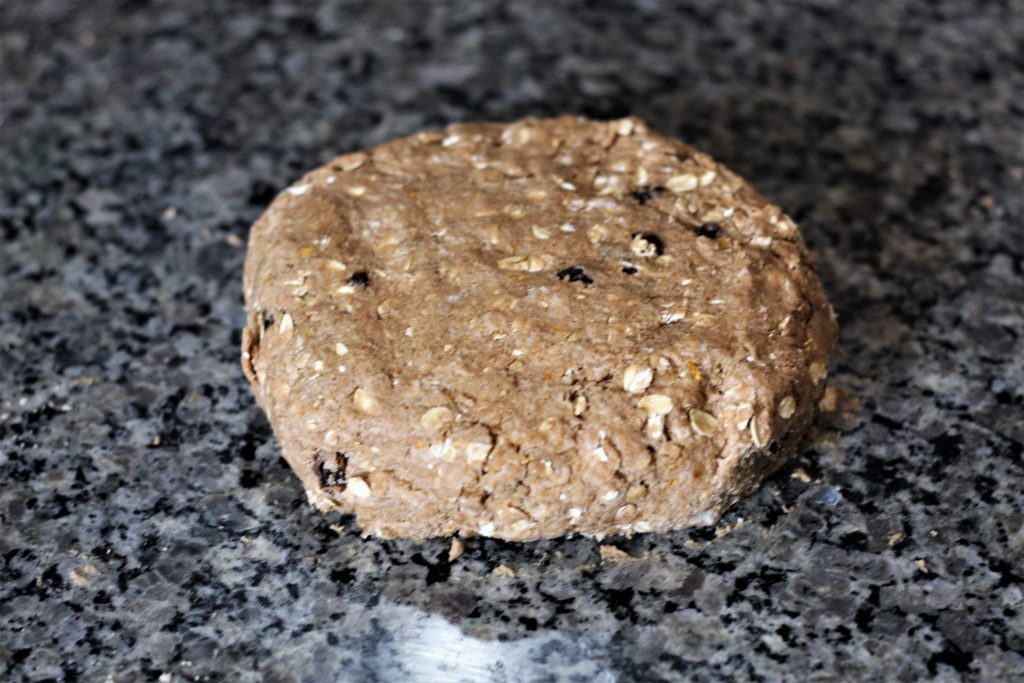 Cut the dough into 8 equal pieces.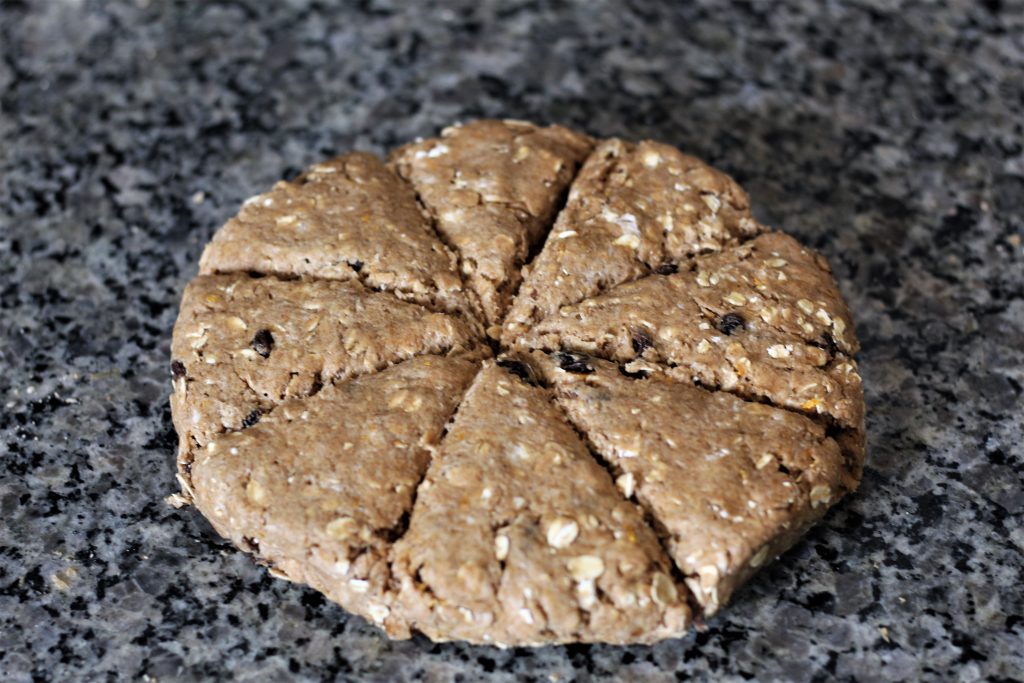 Place the scones on a lined baking sheet and put them in the 400 degree F oven for 15-20 minutes.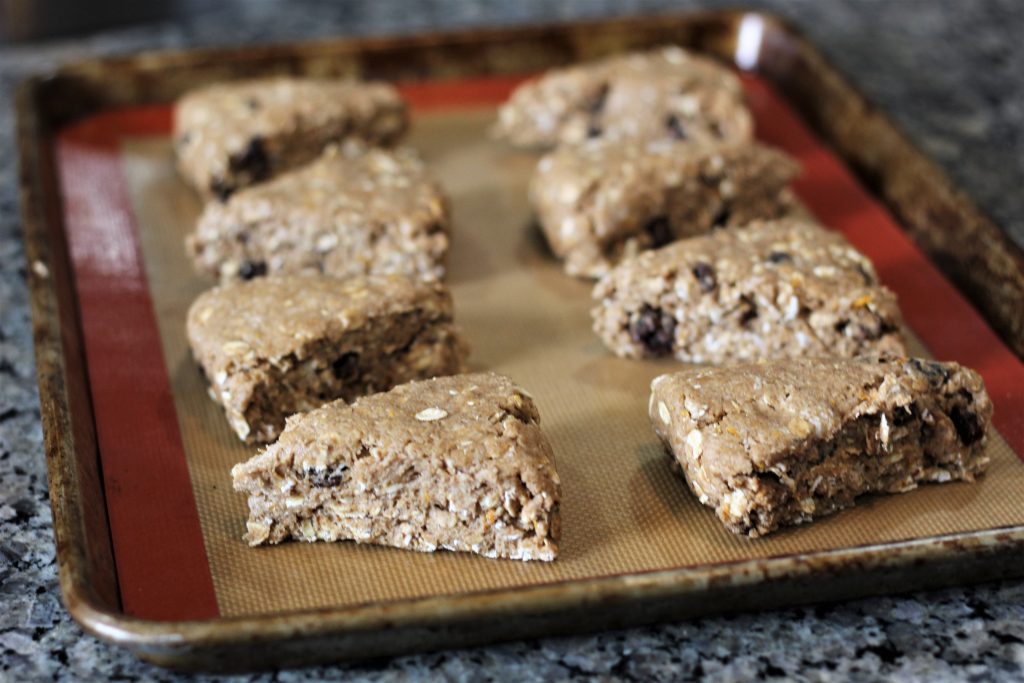 While the scones are baking you'll make the cinnamon-maple glaze. It's quite simple. Powdered sugar, cinnamon, maple syrup, and salt, with a little bit of water to smooth it out.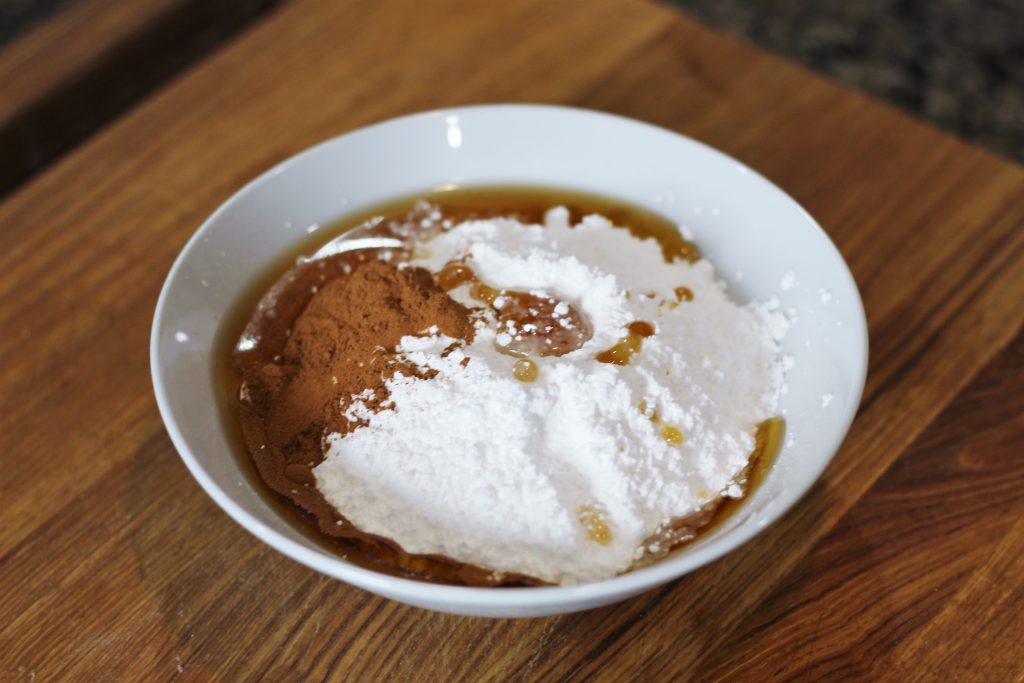 Add the water a teaspoon or two at a time until the glaze is thick, but pourable. It should pool up when drizzled back into the bowl, but after a second or two melt back in with the rest of the glaze.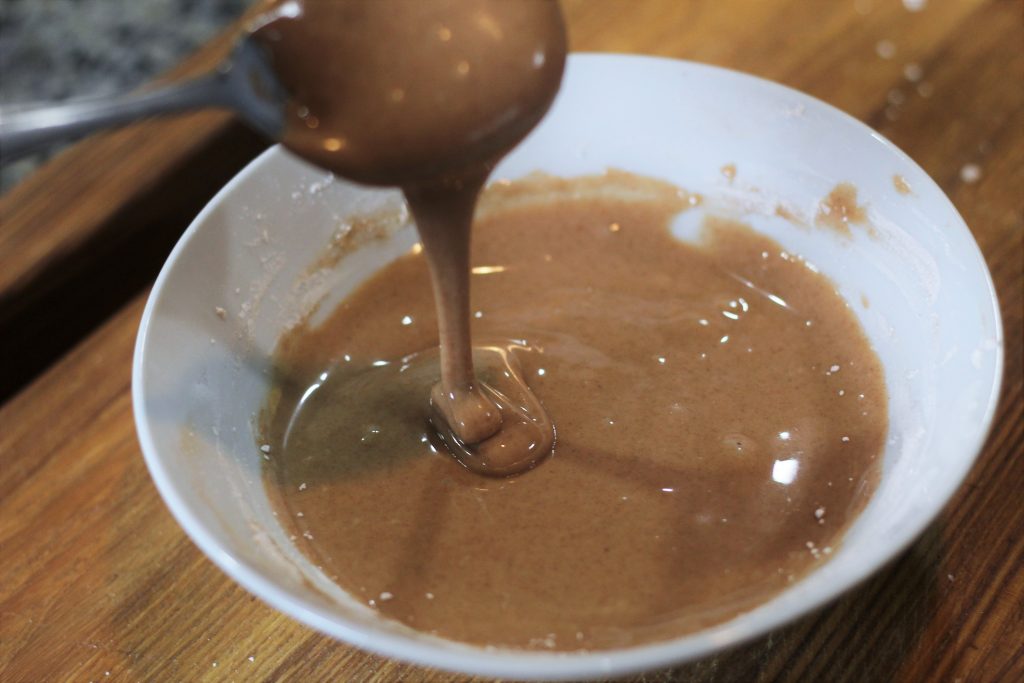 The scones should be a wonderful golden color when they are done baking.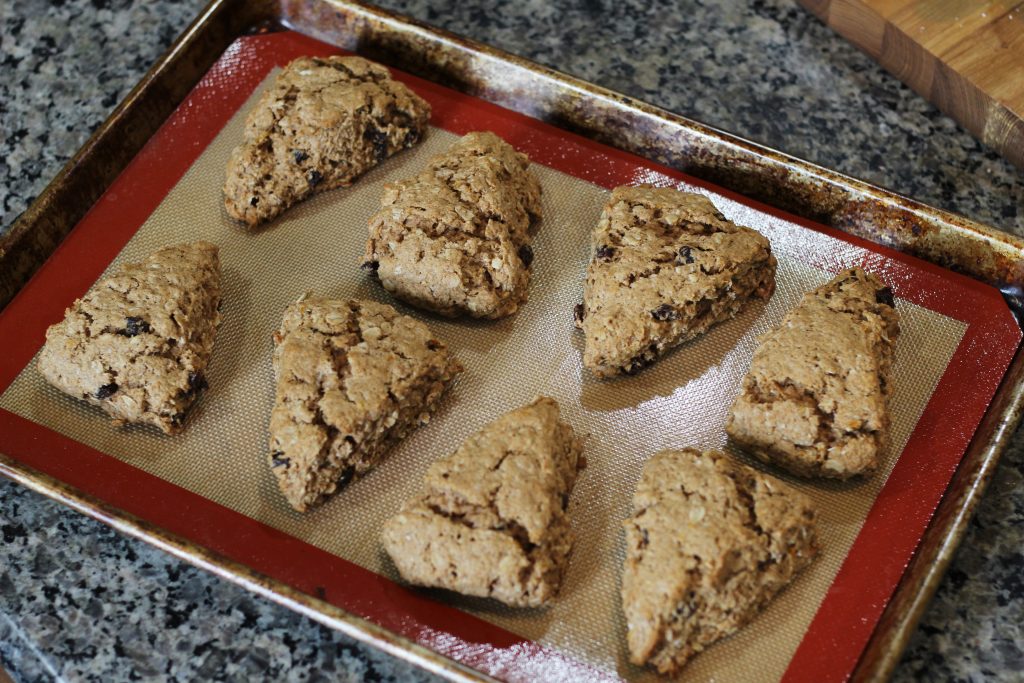 Wait 10 minutes before glazing. This lets them cool down enough that the glaze won't completely melt away, but lets them be just warm enough for the glaze to fully stick.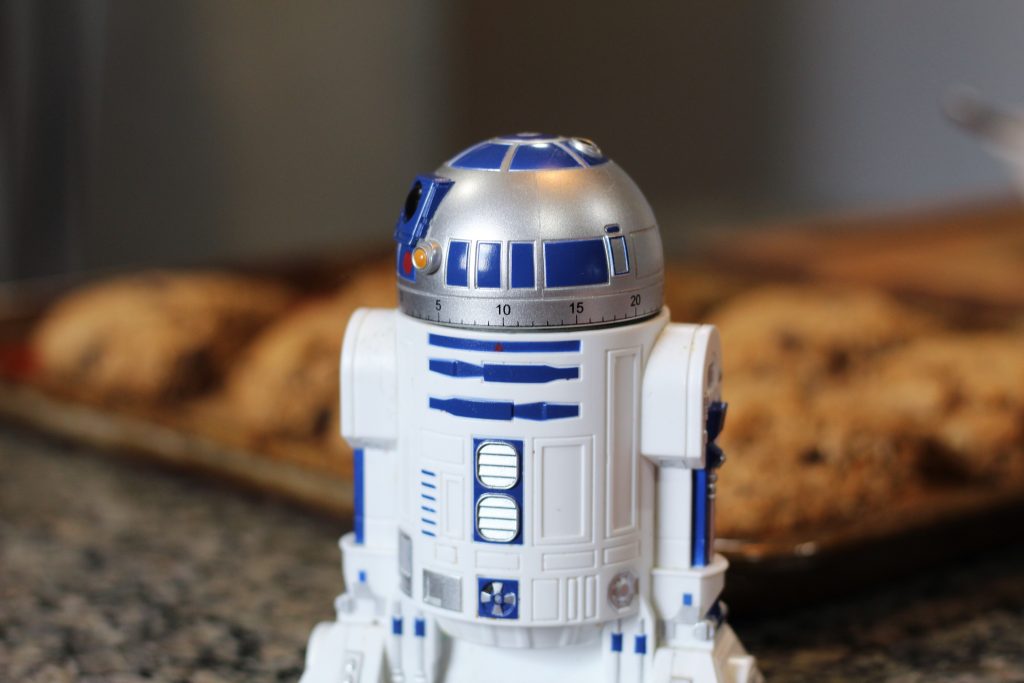 Drizzle the glaze on in thick stripes or zig-zags. I used a butter knife, but you could also use a spoon or even a piping bag.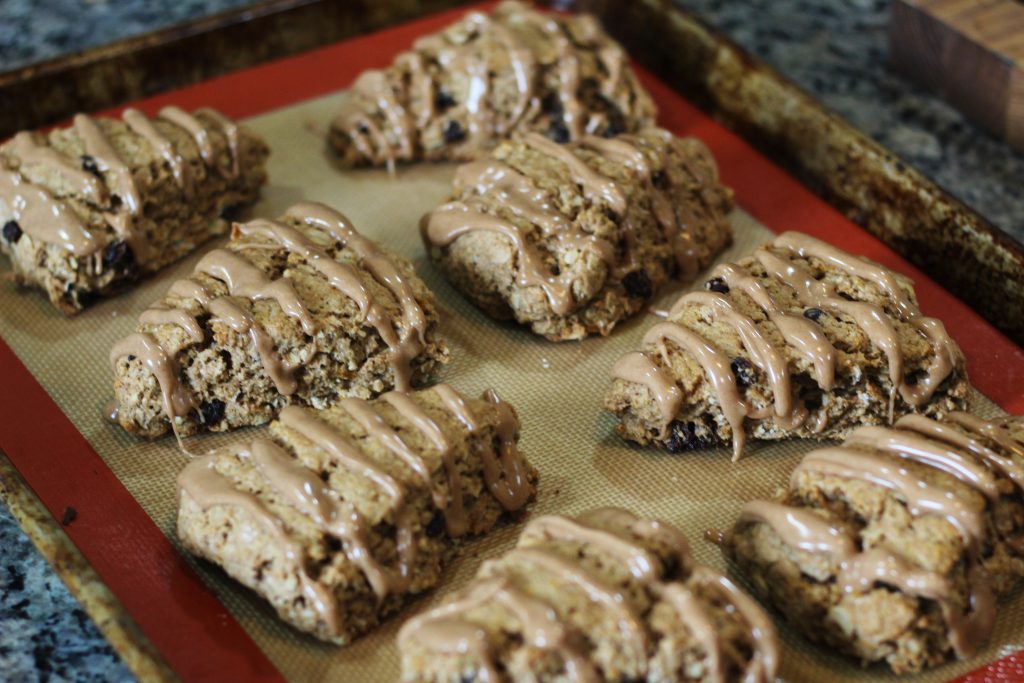 Oatmeal Raisin Scones [makes 8 scones]
1/2 cup (90g) raisins
Spiced rum (or apple juice/cider)
1 1/2 cups (192g) all purpose flour
1/2 cup (64g) whole wheat flour
1 cup  (100g) oats
1 tablespoon baking powder
1/2 teaspoon baking soda
1/2 teaspoon salt
2 teaspoon cinnamon
1/2 teaspoon nutmeg
1/4 teaspoon ground cloves
1/2 cup (100g) brown sugar
Zest of 1 orange
1/2 cup cold butter, cubed
3/4 cup (180g) buttermilk
Place the raisins in a small bowl and fill with enough rum to just cover them. Cover and let sit for an hour.
Preheat the oven to 400 degrees F.
In a large bowl combine the all purpose flour, the whole wheat flour, the oats, baking powder, baking soda, salt, cinnamon, nutmeg, ground cloves, brown sugar, and orange zest. Mix well.
Add the cubed butter to the bowl. Using a pastry blender or two butter knives, cut the butter into the flour mixture until the butter is evenly distributed.
Add the buttermilk and roughly mix until just beginning to combine. Drain the raisins and add them to the bowl. Stir until mostly mixed. Place dough on a lightly floured surface and knead until smooth and cohesive.
Form the dough into a flattened circle about 2 inches tall. Cut into 8 equal pieces. Place the scones on a lined baking sheet.
Bake for 15-20 minutes.
Let cool for 10 minutes before glazing; recipe below.
Cinnamon Maple Glaze
1 cup powdered sugar
1 teaspoon cinnamon
2 tablespoon maple syrup
A pinch of salt
1-2 tablespoon water
Mix together the powdered sugar, cinnamon, maple syrup, and salt in a bowl. Slowly add water, a teaspoon at a time, until the glaze is smooth and pourable, but still thick.