Bug-monkeys, also known as monkey-bugs or "those gross things." Served to the crew in episode 3, they were described as "little diced-up bits of meat with toothpicks" and were in a square, fuzzy bowl.
This one took a while to figure out. Were they chunks of whole meat? Were the diced-up bits formed together to make bigger pieces? What does a bug-monkey even taste like?
After some discussion we decided they were small meatballs that had a slight fish taste. We spent some time figuring out exactly what that meant. At one point we even threw out the idea of frog legs! But eventually a pork-fish blend was settled on. We picked flounder for its light flavor, thinking it would blend well with the pork.  The rest of the dish was based on a favorite cocktail meatball recipe of ours.
The final product!
First, let's start with the aromatics and seasoning. Garlic, ginger, and Chinese chives build the foundation of this recipe. Chinese chives have a wonderful garlic taste to them that works great in this dish.
Next comes the Sichuan peppercorns. This spice has a unique "mouth numbing" property that's hard to describe until you've tried it. We like ours with a fairly course ground, but you can grind yours as finely as you like. We used a mortar and pestle, but feel free to use a spice grinder.
After that we add salt, sugar, sesame oil, and soy sauce for added flavor, and cornstarch and breadcrumbs to help bind the meatballs together.
Once the mixture is well combined, we roll them into balls using about 1 tablespoon of the mix. They are then placed on lined baking sheets and placed in the fridge for an hour to firm up. The recipe says to use parchment paper, but silicone baking liners like the one in our photo will work as well.
When the meatballs are ready to be cooked, heat up some oil in a heavy skillet over medium-high heat. Cook the meatballs on all sides until they are deep brown. Don't worry if your skillet or pan doesn't hold all the meatballs at once. Work in batches and keep the cooked meatballs on a plate while you cook the remaining ones.
Once the meatballs are cooked we'll begin making the sauce. In the same pan you cooked the meatballs you'll add minced garlic, Sichuan peppercorns, and red pepper flakes. Cook for 30 seconds until fragrant, stirring the whole time to make sure the garlic doesn't  burn.
Then we'll add the fish sauce, stock, Shaoxing wine, soy sauce, vinegar, and sugar. Stir well, making sure to scrape up any browned bits left in the pan from the meatballs.
Once the sauce begins to simmer, add the cornstarch slurry and stir until thickened.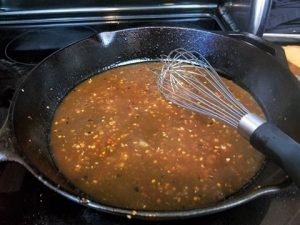 Once the sauce has thickened add the meatballs back in and stir to coat.
Pour into your square, fuzzy bowl (or whatever you have lying around), garnish with some sliced green onions, and serve!
Tabletop One's Tips:
Make sure the flounder is ground well. Using a food processor is highly recommended.
Not sure your guest's will like the fish? Don't worry, it can be substituted with ground chicken, turkey, beef, or even more pork.
We highly recommend heading to your local Asian grocer to get Sichuan peppercorns and Chinkiang vinegar (or buying from an online source). They really make this dish. If you can't get them the Sichuan peppercorns can be substituted with ground black pepper. The Chinkiang vinegar can be substituted for 2 parts rice wine vinegar, 1 part balsamic (1 tablespoon Chinkiang vinegar= 2 teaspoons rice wine vinegar, 1 teaspoon balsamic).
Shaoxing wine can be replaced by a dry sherry or a dry Chinese rice wine. It can also be replaced by more broth if you do not want to use alcohol.
Bug-Monkey or Monkey-Bug Meatballs (makes about 40 meatballs)
16 ounces ground pork
12 ounces ground flounder flesh (may substitute sole, haddock, or cod)
4 cloves finely minced garlic
1 tablespoon minced or grated ginger
4 tablespoons Chinese garlic chives, finely chopped (or a mix of the green part of scallions and regular chives)
1/2 teaspoon ground Sichuan peppercorns
1 teaspoon salt
1 tablespoon sugar
2 teaspoons sesame oil
3 tablespoons soy sauce
2 tablespoons cornstarch
1/4 cup breadcrumbs
2 tablespoons vegetable oil
Add all ingredients except vegetable oil to a large mixing bowl. Stir until completely combined.
Form into small meatballs, about 1 tablespoon each. Place the meatballs on a parchment-lined baking sheet, cover with plastic wrap, and place in the refrigerator for an hour.
Heat the oil in a cast iron or stainless steel skillet over medium-high heat. Pan-fry the meatballs until browned on all sides and cooked through. Remove from the pan and set aside on paper towels to drain.
For the sauce:
1 clove minced garlic
1/4-1/2 teaspoon red pepper flakes
1/4-1 teaspoon ground Sichuan peppercorns
2 teaspoons fish sauce
3/4 cup low-sodium chicken stock or water
3 tablespoons Shaoxing wine
1 tablespoon soy sauce
2 tablespoons Chinkiang vinegar
1 tablespoon sugar
Cornstarch slurry (2 teaspoons cornstarch dissolved into 1 tablespoon water)
To the skillet add the garlic, red peppers flakes, and Sichuan peppercorns. Stir for about 30 seconds, until the garlic is fragrant.
Add the fish sauce, stock, Shaoxing wine, soy sauce, vinegar, and sugar. Stir to combine, making sure to scrape up any browned bits on the bottom of the skillet left from the meatballs. Bring to a simmer.
Add the cornstarch slurry and continue to simmer for about 2 minutes, whisking constantly, until the sauce has thickened. Add the meatballs to the sauce, and stir to coat them.
Garnish with sliced green onions and serve with toothpicks.